Educational Microscopes
Optech Microscope Services are able to provide a varied range of microscopes for educational establishments such as Schools, Colleges and Universities. As we are agents for Microtec we are able to provide an excellent range of basic / student microscopes including monocular and binocular biological microscopes and stereo microscopes.
We know that budgets can be tight so we can give discounts for large orders enabling us to provide educational microscopes to suit most budgets.
The following microscopes are just a small example of what educational microscopes we can supply. For more information and up to date quotations please Contact Us.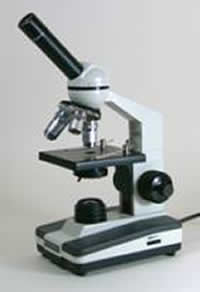 Microtec CM-3
The CM-3 is a basic instrument suitable for use up to 400x magnification (10x eyepiece + 40x objective).
It is an ideal microscope for use in schools and has the following features:
A monocular eyepiece tube with 360 degree movement.
Wide Field 10x eyepiece.
4x, 10x, & 40x DIN achromat objectives.
Plan stage with fitted stage clips to securely hold a slide in place.
Coaxial coarse and fine focus.
Fixed sub-stage condenser with iris diaphragm.
Built-in 6v 10w halogen illumination with brightness control.
Microtec PM-2
The Microtec PM-2 is a mid-range transmitted educational microscope with a built-in mechanical stage, 6v 20w Halogen illumination and a focusing condenser with iris.
This microscope has the following features
Monocular or Binocular models
10x eyepieces
4x, 10x, & 40x S Plan objectives (options for 20x 60x & 100x-oil objectives)
Mechanical stage
Focusing condenser with iris.
6v 20w halogen illumination with brightness control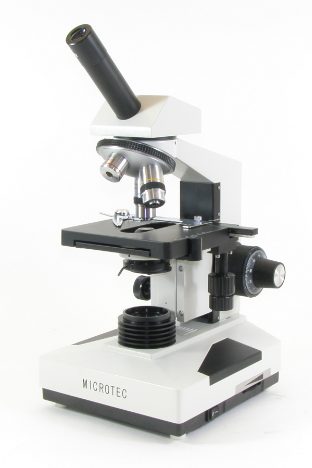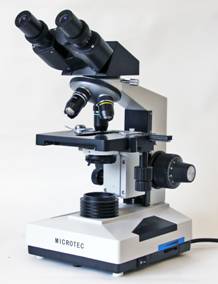 Microtec PM-3
The PM-3 is an advanced student microscope and with its many optional accessories is perfect for college and university use. This microscope is available in both binocular and trinocular models enabling you to add a camera for photo microscopy.
It's key features include:
Wide Field 10x eyepieces
Mechanical stage with built-in drop control
Focusing Abbe condenser with iris diaphragm
Coaxial coarse and fine focusing
S-Plan 4x, 10x, 40x and 100x oil objectives
Built-in 6v 20w halogen illumination with brightness control
With optional accessories including 20x & 60x objectives, Focusing 10x eyepiece with scale graticule and C-mounts this microscope can be tailored to suit many requirements.
Microtec PM-6
The PM-6 microscope is an economically priced instrument but with a performance for exacting microscopy. The focusing Abbe condenser provides suitable illumination for use with the 100x oil objective. The built-in long-life LED illumination provides bright even illumination.
Binocular head with widefield 10x/18 eyepieces
4x, 10x, 40x & 100x-oil objectives (options for 20x & 60x objectives)
Coaxial course & fine focus
Built-in 3w LED illumination
Option for Trinocular head to allow a camera to be fitted