Stereo (Dissecting) Microscopes
With so many different makes and models of stereo microscopes available all with different magnification ranges and stands to choose from it can be a mine field deciding which one would suit your needs best. Let us take that stress away from you. Just let us know what your requirements and budget range are and we can provide you with an up to date quotation for models that would fit your needs
We are able to provide quotations for Turret and Zoom stereo microscopes on many various stands from small pole stands to illuminated stands to long arm stands from all the major manufacturers including Leica, Nikon & Olympus plus Meiji Techno and Microtec
We can also provide various illumination options to suit. Please refer to our Bulbs and Light Sources page.
The following microscopes are just a small example of what we can supply, for more information and up to date quotations please Contact Us.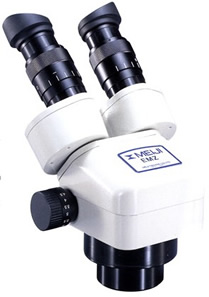 Meiji Techno EMT & EMZ Body Range
Few manufacturers of stereo microscopes can match Meiji's combination of superb optics, rugged dependability, economical pricing and wide range of accessories offered by Meiji Techno's EM Series Stereo Microscopes.
Turret stereo bodies (EMT) have two objective pairs in a turret mount that allows the viewer to change from one magnification to another (e.g. from 10x to 30x) by rotating the turret. While not as flexible as a zoom stereo (EMZ) body, turret bodies are more economical.
The EMT series offers 4 different magnification combinations in both binocular and trinocular models, as well as a specialized extended working distance turret body (EMX-1) designed for users who need extra room to work with their hands under the microscope.
Zoom stereo microscope bodies (EMZ) are the most flexible because they offer a wider range of magnification than turret (EMT) or fixed bodies. Zoom objectives increase and decrease magnification progressively, causing the specimen to grow or shrink smoothly in the eyes of the viewer holding their parafocality or focus throughout the zoom range.
Meiji Techno offers EM Series zoom stereo microscope bodies with a wide range of magnifications and working distances.
Meiji Techno Stands
To go along with your new EM series body you will need a stand. Meiji Techno offers four ranges of stands to choose from. These are the Pole Stand, the Rigid Arm Stand, the Wide Surface Stand and Boom Stand. The following are an example of the most popular stands available from their wide range.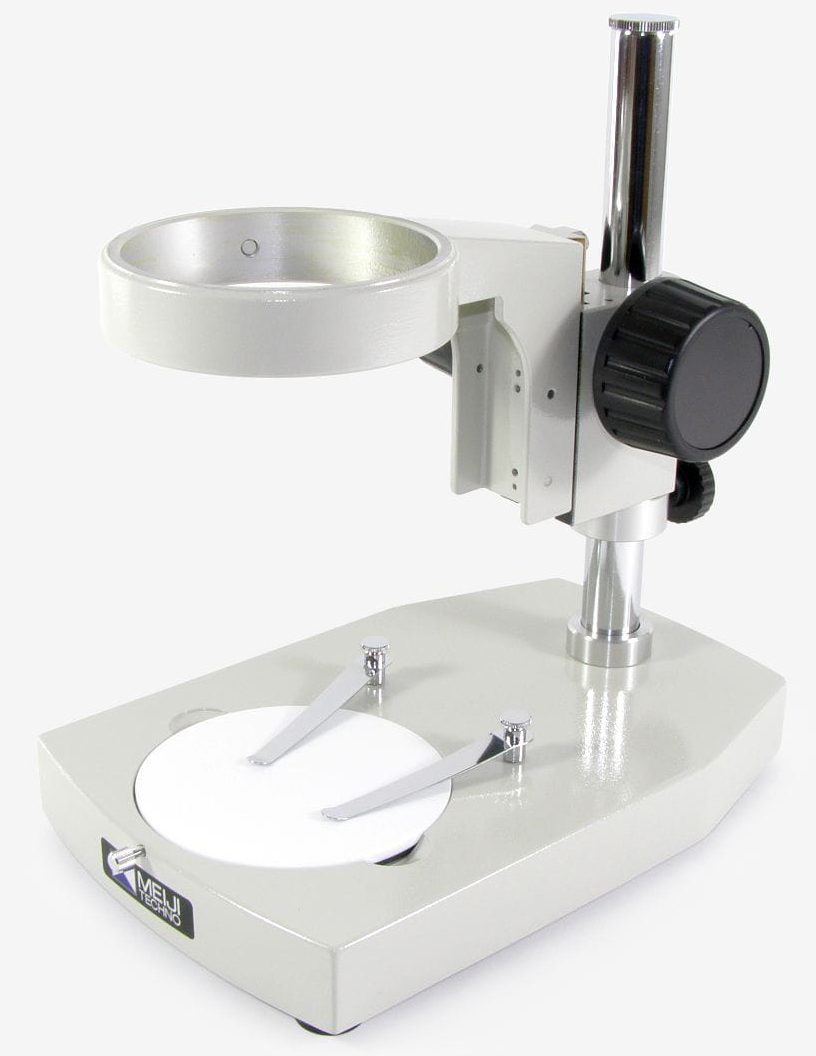 P Stand
Basic pole stand with "F" focusing holder mounted on a plain base. Supplied with one 94.5mm diameter reversible black and white stage plate and two stage clips. (8.35″ / 212 mm pillar)
PK Stand
Pole stand with focus block mounting on an ergo base. Includes black / white stage plate and stage clips. Non illuminated.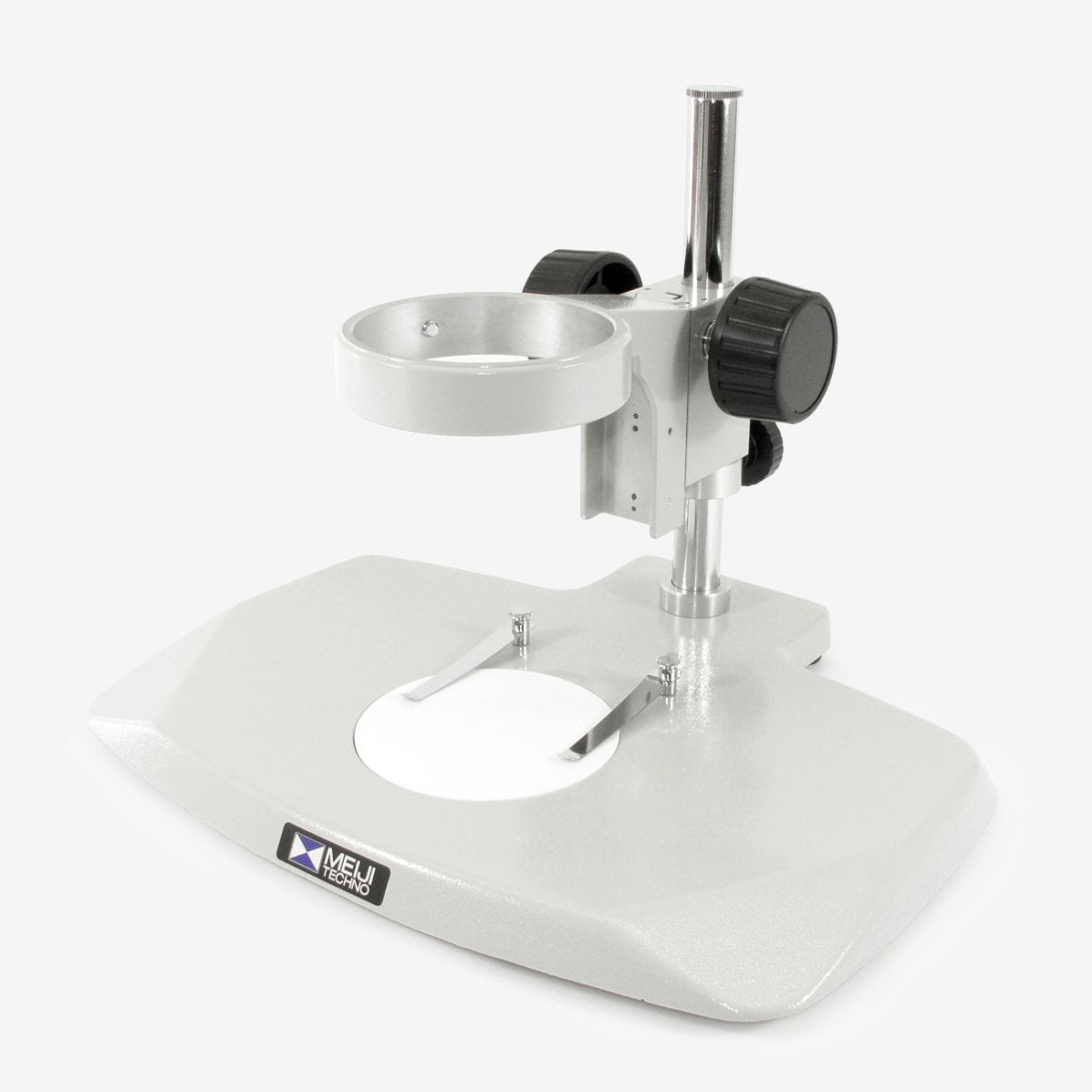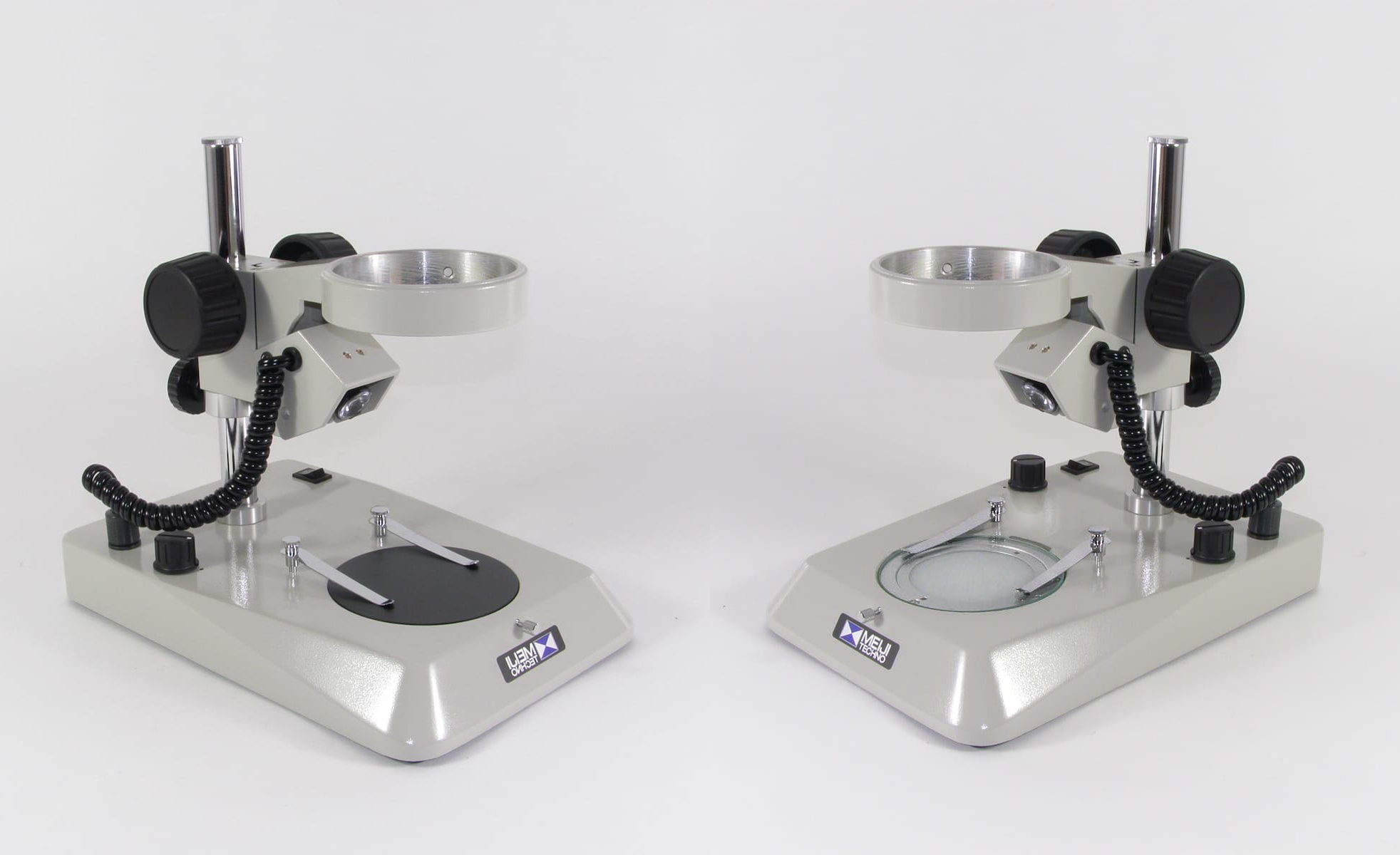 PLS-1 & PLS-2 Stands
The PLS-1 stand is an illuminated pole stand with focus block and variable incident LED illumination and black/white stage plate. While the PLS-2 comes with both incident and transmitted LED illumination and a glass stage plate.
UHM-D Long Reach Stand
Universal twin arm boom stand with 20mm swivel spigot to accept F block. (Focus F block sold separately)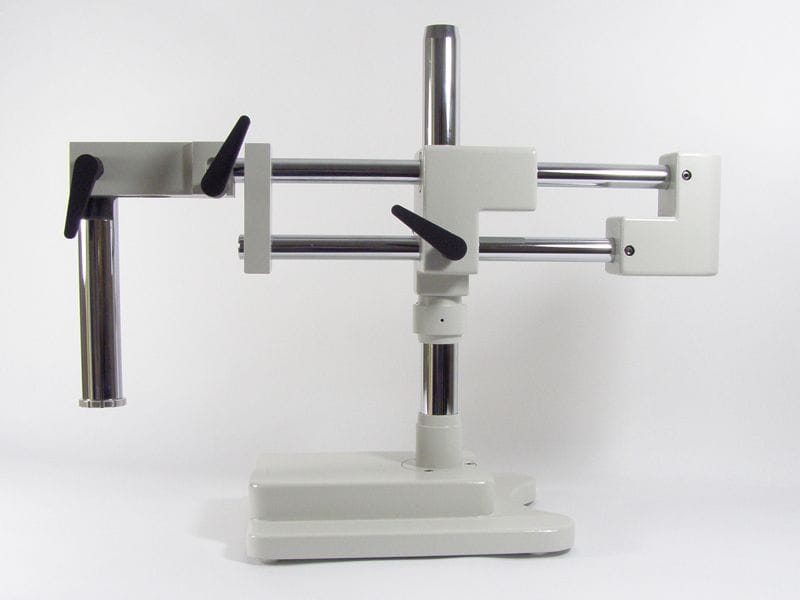 Microtec Stereo Microscope Range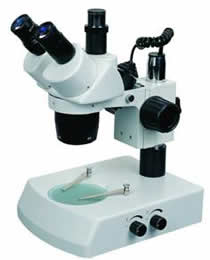 Microtec HM-2
The HM-2 is an economically priced stereomicroscope. The objective turret contains two pairs of objectives and the magnification is changed by rotating the turret.
Regulating transmitted and incident halogen illumination is built-in.
There are three versions available with 1x/2x, 1x/3x and 2x/4x objectives. These microscopes provide the following magnifications and fields with the widefield 10x eyepieces.
15x and 20x eyepieces are also available as an optional extra.
These stereomicroscopes come with either a plain pole stand without illumination or a PT stand with incident and transmitted halogen illumination.
These microscopes can be matched up with fluorescence tube ring light or LED ring light.
Microtec HM-3
The HM-3 Stereo microscope has a built-in phototube and a zoom ratio range of 6.4:1 with a zoom range of 0.7x – 4.5x giving a magnification of 7x – 45x using 10x eyepieces as standard. A selection of stands, supplementary front lenses and eyepieces are available, enabling a range of magnifications from 3.5x to 180x to be achieved.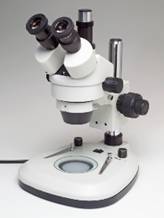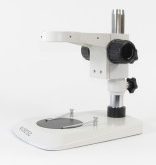 Plain stand without illumination including focusing mechanism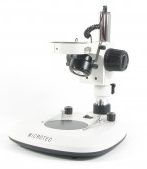 LED illuminated stand with reflected & transmitted illumination with focus block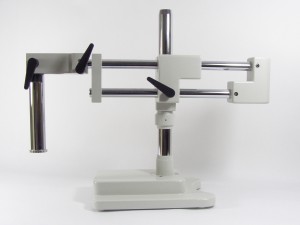 Twin Arm Long Arm stand – Focusing mechanism not included