Optech Microscope Services offer a wide of microscopes to all the needs of our customers.
We are able to provide you with quotations from various manufacturers including Leica, Meiji Techno, Microtec, Nikon, Olympus and Zeiss.
We have many various customers including NHS Pathology, Health Protection Agency, Asbestos Industry, Metrology, Research Laboratories, Engineering and Education establishments.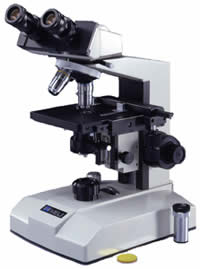 Meiji Techno ML6520 Phase Contrast Microscope (PCM)
Binocular phase contrast microscope complete with condenser with centring 40X phase annulus in slider, 10X and 40X BF Phase objectives, 12.5X focusing eyepieces including Walton & Beckett graticules, Green interference filter, LED Koehler illumination plus centring phase telescope.
This moderately priced microscope is well used within the asbestos industry due to it being solidly built, reliable, and nicely designed.
Add to this a custom build flight case and you have the perfect solution for a surveyors travelling microscope.
Meiji Techno ML9200 Polarising Light Microscope (PLM)
Binocular polarising microscope complete with 10X eyepieces including Cross Line Graticule, Strain Free Plan 10X objective, Dispersion Staining 10X objective, Abbe condenser NA 1.25 with iris, Rotatable Polariser with Analyser, First Order Red compensating plate and LED Koehler illumination.
This sturdy nicely designed microscope is perfect for and widely used in the asbestos industry.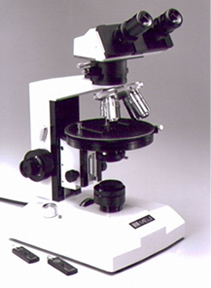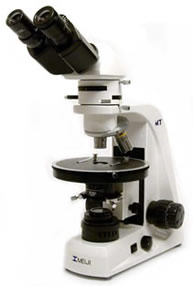 Meiji Techno MT9000 Polarising Light Microscope (PLM)
The new MT9000 and MT9900 polarising microscopes are ergonomically designed using CAD technology complete with 10X focusing eyepiece including Cross Line Graticule and 10X non-focusing eyepiece, Strain Free Plan 4X, 10X & 40X objectives, Abbe NA 1.25 condenser, 360° rotating graduated stage.
The ML9000 series microscope has 6v 30w incident Koehler illumination while the ML9900 series has transmitted and incident 6v 30w illumination.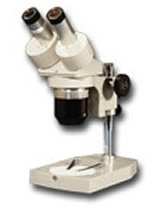 Meiji Techno EMT2 Bulk Analysis Stereomicroscope
This EMT2 turret type stereo microscope has 1X & 3X objectives with 10X eyepieces giving 10X & 30X magnification which is standard throughout the industry.
Available on P-Stand with F holder focus block & Black/White stage plate and optional LED Ring illuminator.
Or PBH-Stand with F holder focus block, Halogen transmitted and incident illumination with intensity control, glass + Black/White stage plates.
Microtec HM2 Bulk Analysis Stereomicroscope
This economically priced stereomicroscope are well suited for the asbestos industry and has turret type objectives sets 1X/2X, 1X/3X and 2X/4X and comes standard with 10X eyepieces with 15X & 20X eyepieces options available.
These stereomicroscopes come with either a plain pole stand without illumination or a PT stand with incident and transmitted halogen illumination.
These microscopes can be matched up with fluorescence tube ring light or LED ring light.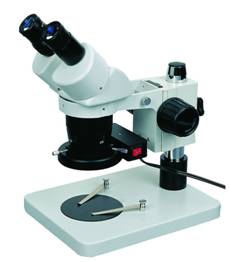 Biological Microscopes
With our long experience in the servicing of microscopes we are able to help our customers with their choice in makes, models and requirements to suit their specific needs from routine laboratory microscopes such as the Nikon Ci-s to high specification research microscopes like the Olympus BX63 or fluorescence microscopes like the Leica DM2500 we can cater for all.
In addition to being able to supply upright & inverted biological brightfield, darkfield and fluorescence microscopes from the big four manufacturers we are approved sales agents for Meiji Techno and Microtec microscopes.
The following microscopes are just a small example of what we can supply so for more information and up to date quotations please Contact Us.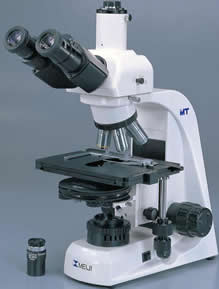 Meiji Techno MT4000 / MT5000 Series Biological Microscopes
The Meiji Techno MT4000 and MT5000 Series of biological microscopes have been designed as versatile, modular, ergonomic microscope systems which are ideally suited for many different laboratory uses. The ergonomic design allows the location of the controls to be in stress free position increasing efficiency and reducing the risk of RSI.
The MT4000 & MT5000 series employs all new and improved optics. Meiji Techno's ICOS™ (Infinity Corrected Optical System) makes the study of mounted specimens fast and easy while delivering an excellent cost-to-performance ratio.
With options for binocular, trinocular and binocular ergo heads complete with 10X eyepieces as standard and optional 15X & 20X eyepieces.
The MT4000 series is available in brightfield and phase contrast models while the MT500 series is available with models suitable for brightfield, phase contrast and has darkfield options. Both series have many different accessories for all models so they can be built to your exact requirements.
Microtec IM-2 Inverted Biological Microscope
The Microtec IM-2 Inverted microscope comes complete with excellent flat field phase contrast LWD Plan 4X, 10X & 20X objectives, Phase slider for 4x, 10x, 20x, & 40xx objectives. 10x/22mm eyepieces and phase telescope. The illumination comes for a 6v 30w Halogen lamp with intensity regulation. The standard model has a phototube incorporated; enabling a camera attachment to be readily added.
The long working distance objectives are corrected for working through a 1.2mm thickness chamber.
With optional items such as LWD Plan 40X objective, attachable mechanical stage and various dish/slide holders and stage extenders and C-mounts this microscope can be deigned to suit many different uses.
And with its sister the IM-2R fluorescence microscopes Microtec has it all covered.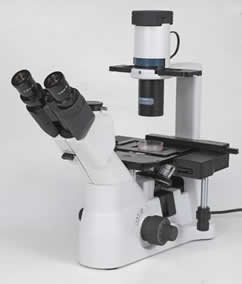 Metallurgical Microscopes
We have a long history of working in the metrology and materials industries and with that experience / knowledge are able to offer our customers a range of metallurgical microscopes to their needs.
Being appointed distributors for Olympus and Nikon we are able to supply high end upright and inverted microscopes such as the Olympus BXiS or the GX51; medium priced microscopes such as the Meiji Techno MT7500 brightfield / darkfield upright microscope or the IM7000 inverted or the in-expensive Microtec range.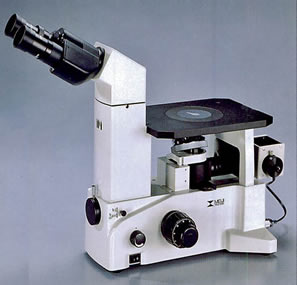 Meiji Techno IM7000
Evaluation of metallurgical specimens is fast and easy with Meiji Techno's IM7000 Inverted Metallurgical microscope.
The IM7000 delivers an excellent performance-to-cost ratio because it has the features and versatility that one would expect to find in more expensive instruments. The IM7000 has an integrated front mounted camera port with adapters available for 35mm, CCD, CMOS and other cameras.
Microtec RM-1 MET
This modestly priced well designed upright metallurgical microscope comes in two models, the RM-1 MET complete with trinocular head, 10x eyepieces, incident 12V 50W illumination with field iris and aperture iris controls, mechanical stage and Planachromat 4X, 10X, 20X & 40X objectives.
Or the RM-1 MET/T complete as above except also with transmitted 6V 30W halogen illuminator and focusing substage condenser.
Both models have the option of adding Planachromat 50X &/or 80X objectives.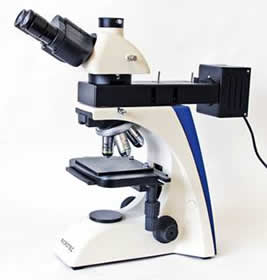 Stereo (Dissecting) Microscopes
With so many different makes and models of stereo microscopes available all with different magnification ranges and stands to choose from it can be a mine field deciding which one would suit your needs best. Let us take that stress away from you. Just let us know what your requirements and budget range are and we can provide you with an up to date quotation for models that would fit your needs
We are able to provide quotations for Turret and Zoom stereo microscopes on many various stands from small pole stands to illuminated stands to long arm stands from all the major manufacturers including Leica, Nikon & Olympus plus Meiji Techno and Microtec
We can also provide various illumination options to suit. Please refer to our Bulbs and Light Sources page.
The following microscopes are just a small example of what we can supply, for more information and up to date quotations please Contact Us.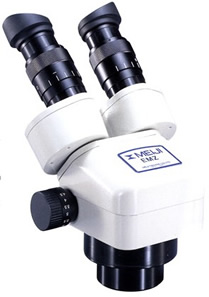 Meiji Techno EMT & EMZ Body Range
Few manufacturers of stereo microscopes can match Meiji's combination of superb optics, rugged dependability, economical pricing and wide range of accessories offered by Meiji Techno's EM Series Stereo Microscopes.
Turret stereo bodies (EMT) have two objective pairs in a turret mount that allows the viewer to change from one magnification to another (e.g. from 10x to 30x) by rotating the turret. While not as flexible as a zoom stereo (EMZ) body, turret bodies are more economical.
The EMT series offers 4 different magnification combinations in both binocular and trinocular models, as well as a specialized extended working distance turret body (EMX-1) designed for users who need extra room to work with their hands under the microscope.
Zoom stereo microscope bodies (EMZ) are the most flexible because they offer a wider range of magnification than turret (EMT) or fixed bodies. Zoom objectives increase and decrease magnification progressively, causing the specimen to grow or shrink smoothly in the eyes of the viewer holding their parafocality or focus throughout the zoom range.
Meiji Techno offers EM Series zoom stereo microscope bodies with a wide range of magnifications and working distances.
Meiji Techno Stands
To go along with your new EM series body you will need a stand. Meiji Techno offers four ranges of stands to choose from. These are the Pole Stand, the Rigid Arm Stand, the Wide Surface Stand and Boom Stand. The following are an example of the most popular stands available from their wide range.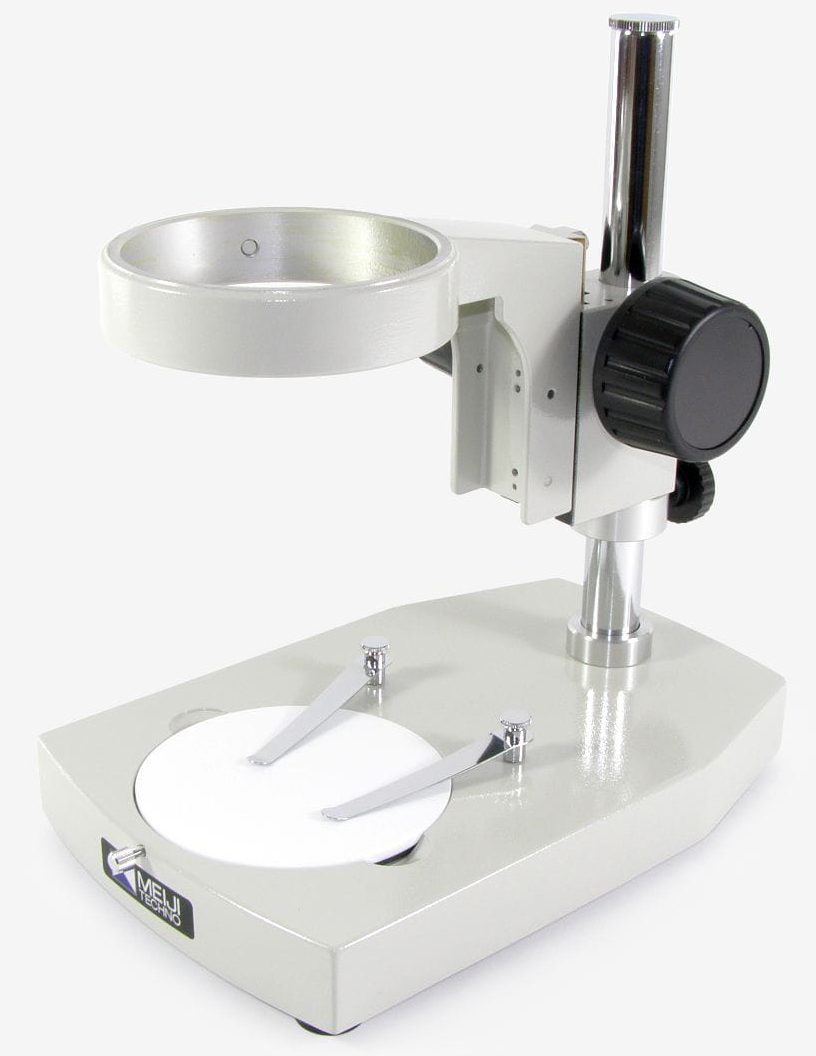 P Stand
Basic pole stand with "F" focusing holder mounted on a plain base. Supplied with one 94.5mm diameter reversible black and white stage plate and two stage clips. (8.35″ / 212 mm pillar)
PK Stand
Pole stand with focus block mounting on an ergo base. Includes black / white stage plate and stage clips. Non illuminated.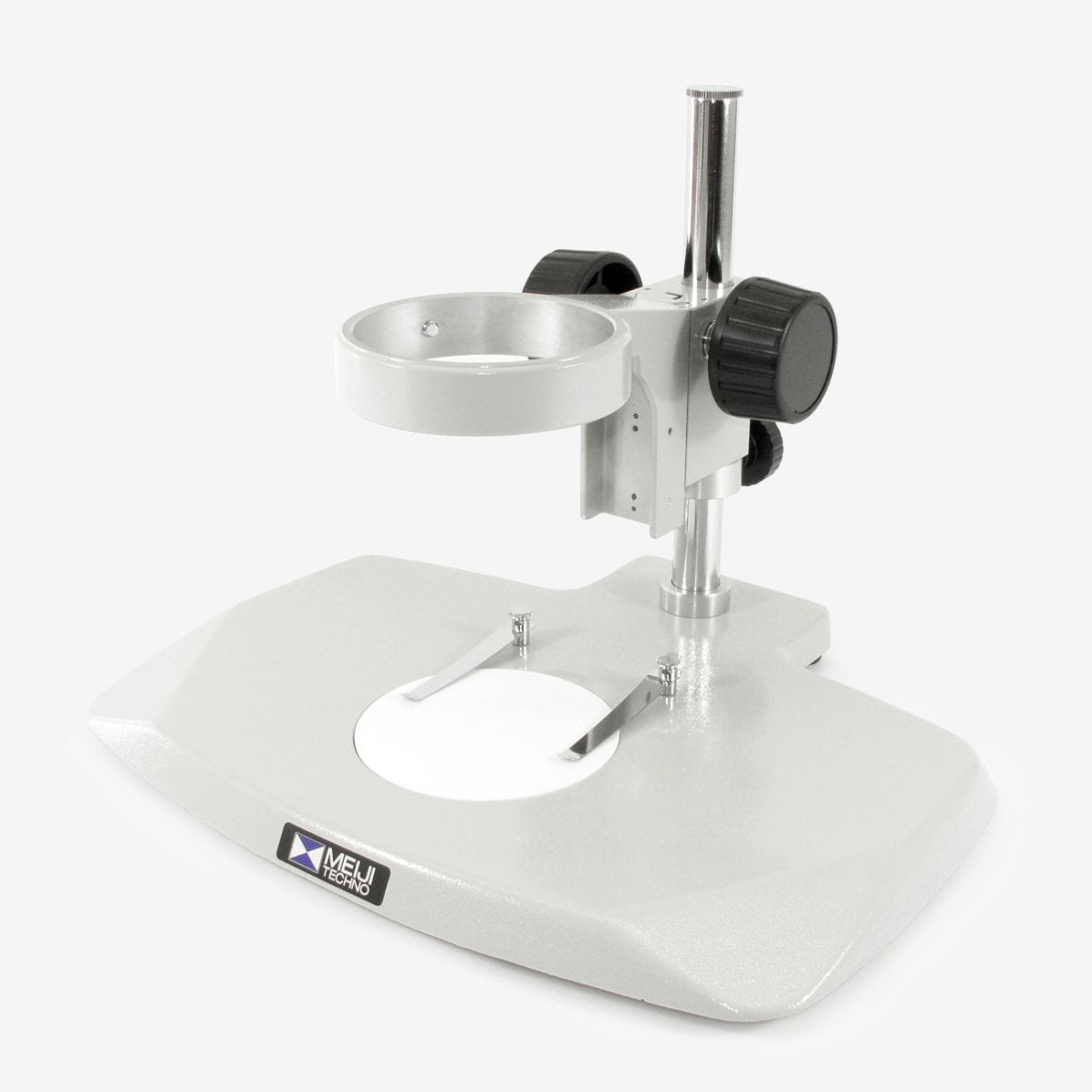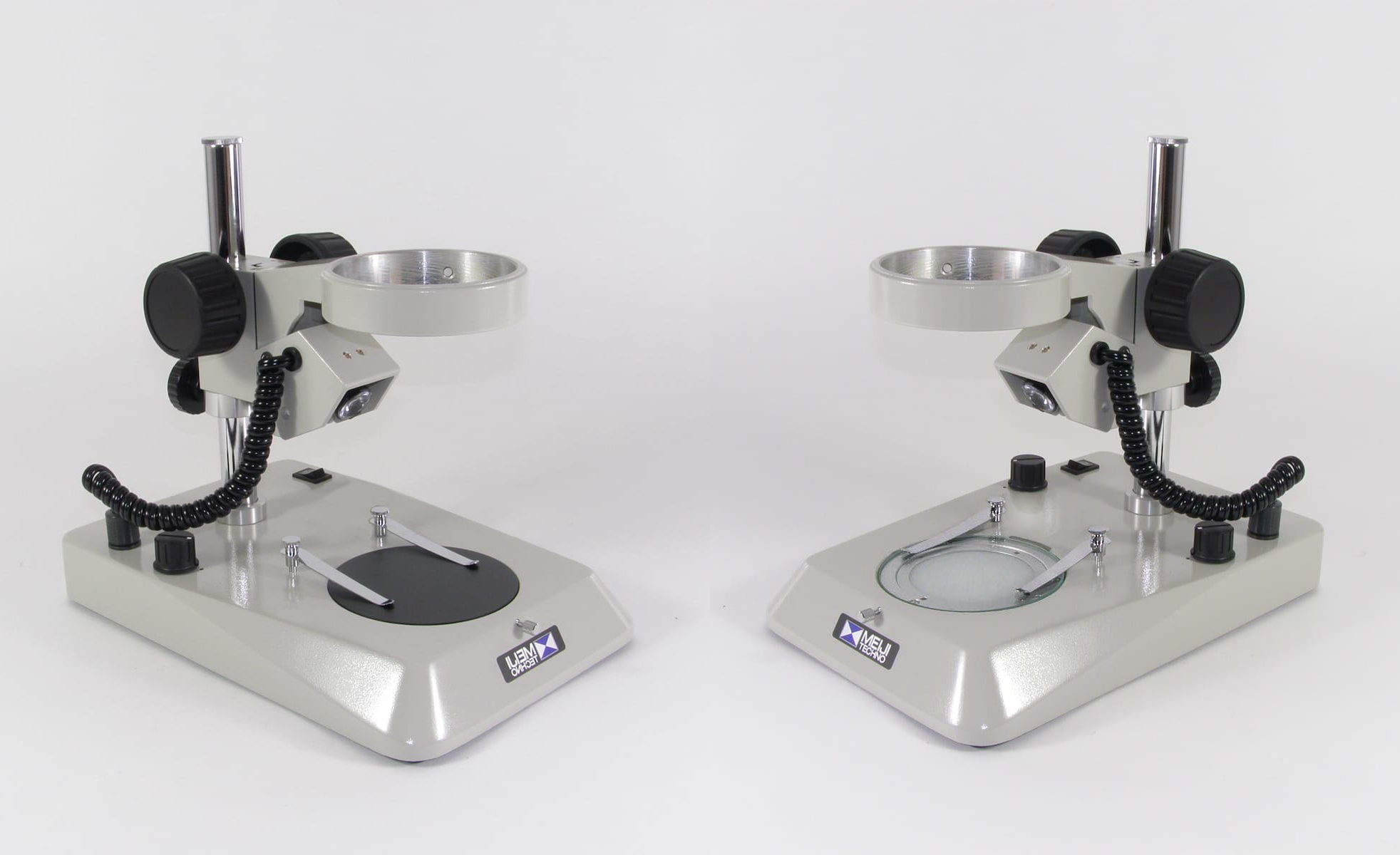 PLS-1 & PLS-2 Stands
The PLS-1 stand is an illuminated pole stand with focus block and variable incident LED illumination and black/white stage plate. While the PLS-2 comes with both incident and transmitted LED illumination and a glass stage plate.
UHM-D Long Reach Stand
Universal twin arm boom stand with 20mm swivel spigot to accept F block. (Focus F block sold separately)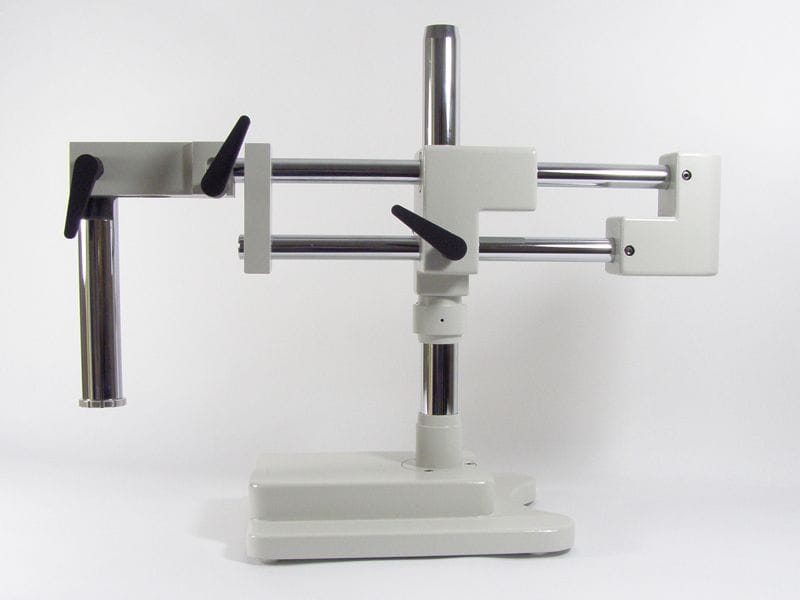 Microtec Stereo Microscope Range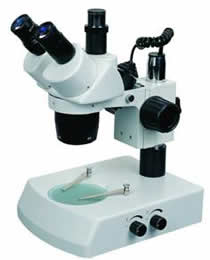 Microtec HM-2
The HM-2 is an economically priced stereomicroscope. The objective turret contains two pairs of objectives and the magnification is changed by rotating the turret.
Regulating transmitted and incident halogen illumination is built-in.
There are three versions available with 1x/2x, 1x/3x and 2x/4x objectives. These microscopes provide the following magnifications and fields with the widefield 10x eyepieces.
15x and 20x eyepieces are also available as an optional extra.
These stereomicroscopes come with either a plain pole stand without illumination or a PT stand with incident and transmitted halogen illumination.
These microscopes can be matched up with fluorescence tube ring light or LED ring light.
Microtec HM-3
The HM-3 Stereo microscope has a built-in phototube and a zoom ratio range of 6.4:1 with a zoom range of 0.7x – 4.5x giving a magnification of 7x – 45x using 10x eyepieces as standard. A selection of stands, supplementary front lenses and eyepieces are available, enabling a range of magnifications from 3.5x to 180x to be achieved.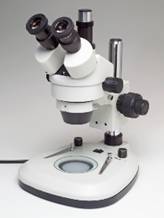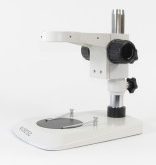 Plain stand without illumination including focusing mechanism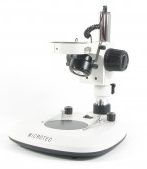 LED illuminated stand with reflected & transmitted illumination with focus block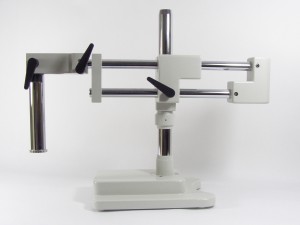 Twin Arm Long Arm stand – Focusing mechanism not included
Educational Microscopes
Optech Microscope Services are able to provide a varied range of microscopes for educational establishments such as Schools, Colleges and Universities. As we are agents for Microtec we are able to provide an excellent range of basic / student microscopes including monocular and binocular biological microscopes and stereo microscopes.
We know that budgets can be tight so we can give discounts for large orders enabling us to provide educational microscopes to suit most budgets.
The following microscopes are just a small example of what educational microscopes we can supply. For more information and up to date quotations please Contact Us.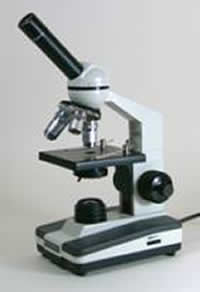 Microtec CM-3
The CM-3 is a basic instrument suitable for use up to 400x magnification (10x eyepiece + 40x objective).
It is an ideal microscope for use in schools and has the following features:
A monocular eyepiece tube with 360 degree movement.
Wide Field 10x eyepiece.
4x, 10x, & 40x DIN achromat objectives.
Plan stage with fitted stage clips to securely hold a slide in place.
Coaxial coarse and fine focus.
Fixed sub-stage condenser with iris diaphragm.
Built-in 6v 10w halogen illumination with brightness control.
Microtec PM-2
The Microtec PM-2 is a mid-range transmitted educational microscope with a built-in mechanical stage, 6v 20w Halogen illumination and a focusing condenser with iris.
This microscope has the following features
Monocular or Binocular models
10x eyepieces
4x, 10x, & 40x S Plan objectives (options for 20x 60x & 100x-oil objectives)
Mechanical stage
Focusing condenser with iris.
6v 20w halogen illumination with brightness control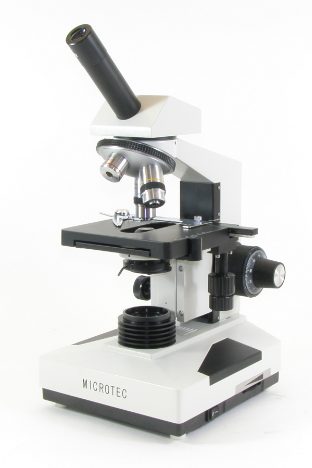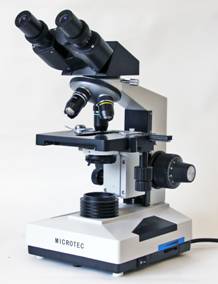 Microtec PM-3
The PM-3 is an advanced student microscope and with its many optional accessories is perfect for college and university use. This microscope is available in both binocular and trinocular models enabling you to add a camera for photo microscopy.
It's key features include:
Wide Field 10x eyepieces
Mechanical stage with built-in drop control
Focusing Abbe condenser with iris diaphragm
Coaxial coarse and fine focusing
S-Plan 4x, 10x, 40x and 100x oil objectives
Built-in 6v 20w halogen illumination with brightness control
With optional accessories including 20x & 60x objectives, Focusing 10x eyepiece with scale graticule and C-mounts this microscope can be tailored to suit many requirements.
Microtec PM-6
The PM-6 microscope is an economically priced instrument but with a performance for exacting microscopy. The focusing Abbe condenser provides suitable illumination for use with the 100x oil objective. The built-in long-life LED illumination provides bright even illumination.
Binocular head with widefield 10x/18 eyepieces
4x, 10x, 40x & 100x-oil objectives (options for 20x & 60x objectives)
Coaxial course & fine focus
Built-in 3w LED illumination
Option for Trinocular head to allow a camera to be fitted